Blade Runner 2049: The IMAX 2D Experience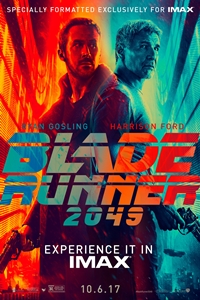 Trent'anni dopo gli eventi del primo film, il nuovo Blade Runner 2049. L'agente K della Polizia di Los Angeles (Ryan Gosling) scopre un segreto sepolto da tempo che potrebbe far precipitare nel caos quello che e` rimasto della societa`. La scoperta di K lo spinge verso la ricerca di Rick Deckard (Harrison Ford), un ex- blade runner della polizia di Los Angeles sparito nel nulla da 30 anni.
Details
Action/Adventure
SciFi/Fantasy
2 hr. 44 min.
Opened 10/6/2017
Director
Denis Villeneuve
Cast
Ryan Gosling
Harrison Ford
Ana de Armas
Sylvia Hoeks
Robin Wright
Writer
Hampton Fancher
Michael Green
Philip K. Dick
★

Playing At
Coming Soon to a location near you.