The Nut Job 2: Nutty By Nature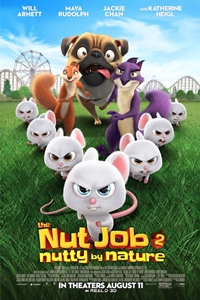 Surly Squirrel (Will Arnett) and the gang are back. We are once again in Oakton where the evil mayor has decided to bulldoze Liberty Park and build a dangerous amusement park in its place. Surly and his ragtag group of animal friends band together to save their home, defeat the mayor, and take back the park.
Details
Animation
1 hr. 26 min.
Opened 8/11/2017
Director
Cal Brunker
Cast
Will Arnett
Katherine Heigl
Maya Rudolph
Bobby Moynihan
Gabriel Iglesias
Writer
Scott Bindley
Cal Brunker
Bob Barlen
★

Playing At
Coming Soon to a location near you.